Interviews with inspiring individuals who are making the most of their peak stage.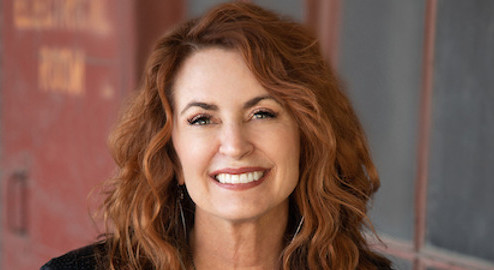 Meet Laura Gray, author, community leader, and founder of IPride, a self-esteem building program for youth.
Laura grew up in a working-class suburb of Cleveland, Ohio. Laura attributes her independence, robust work ethic, and flexible life philosophy to being the youngest of eight children in a loving Catholic family. Laura was the first to attend college and graduated with a degree in communications.
Following opportunities on the West and East coasts, Laura eventually returned to her Midwestern roots, married, and began a family.
It was just after the birth of her first child, at the age of thirty-two, that Laura found the courage to share her story. Abuse she'd kept hidden for twenty-six years. Trauma that manifested through her teen years and early twenties with bouts of bulimia, cutting, excessive drinking and disdain for her body. Laura was abused by the priest her mother worked for. As she began to tell her story, memories long buried began to surface, as did her voice. The profound turning point for Laura was hearing, "I believe you."
In 2015 Laura established IPride after coming to terms with her childhood trauma. The program is aligned, and designed with social-emotional learning standards, placing emphasis on mindfulness, creative thought, expression, and basic physical fitness. Tools Laura found essential in her life as she worked to overcome her devastating past. She utilizes her training and certifications in nutrition and exercise, conducting workshops, youth leadership programs with schools, Boys & Girls Clubs and Juvenile detention centers.


"Yes, pain comes from not knowing. However, I have earned my scars, which have now evolved into wings. For that, I am grateful."


In her late-50s, Laura is stronger than ever. Now divorced, she proudly honors the paths her three sons, ages twenty-four, twenty-one, and eighteen, have chosen. Her faith and compassion carry her along a journey dedicated to helping others live their best lives.
From leading "Sessions of Light" hikes in her local forests, to donating a kidney to a local woman in need, Laura is a force of light and strength for all.




Connecting with Laura:

Is this the life you anticipated in your 20s, 30s, 40s, last year?
Ha! I honestly don't remember what life I expected or anticipated. I'm just beyond grateful for my health and the life I wake up to each day. I do recall as a little girl telling my mom that I was "going to marry a different man every 5 years!" Which, by the way, did NOT happen!
What do you find most fulfilling, important now? Any surprises?
What I find most fulfilling and very important to me are spending any time with my adult sons and hiking. Every. Single. Day. Both allow me to reconnect to my heart-self and nourish my soul simply and joyfully.
How have life's challenges, fears, and biggest changes you've faced changed you?
We evolve, or we repeat. We choose to live in fear or love. Throughout my life I have "changed lanes" and stumbled. However, it is through these challenging times where I have personally experienced the most growth, and independence. Plus having a really good sense of humor helps!
Ever imagine going back to an earlier stage? If so which one?
My father often said while teaching me to drive, "Don't look in the rearview mirror. The road is in front of you."
Profound, simple words of wisdom which influence me even more so 40 years later. While I am somewhat of an eclectic collection of all my past experiences, I embrace all that I am and practice truly being present each day. In doing so, I am free to thoroughly enjoy the best of all times, in this moment, right now.
Is community/connection valuable to you?
Community and connection are everything to me. However, over the years, I have come to realize that the door to my journey opens inward. And unless I am deeply connected and at peace with my true self, any other relationships I have may not be able to sustain and flourish to their full potential.
Are your relationships intergenerational, family, neighbors, clubs?
Yes! Growing up as the youngest of 8 children and with my mother being the youngest of 14, I am fortunate to have been surrounded by all generations.
Often, I forget my age and must think of the year I was born, do the math and figure it out!


"I believe our souls are ageless and we can learn so much from each other."


How do you envision rediscovering your purpose in the coming years?
While it is true that we are all "perfectly imperfect", my goal has always been to follow my passion to work directly with young people to help lift their spirits and provide them with tools to improve their self-esteem and truly enjoy living in their now
My goal in the coming years is to grow the program/curriculum internationally and have already taken the next steps necessary to make this happen. I invite you to check it out!
What's one fun fact about you?
One fun fact is that I sang the National Anthem, acapella, before our high school basketball games.
What is your favorite place on earth?
"Before it's your favorite place, it's a place you've never been." With that, I am manifesting my next adventure of hiking under the stars in Peru and Ecuador!