Interviews with inspiring individuals who are making the most of their peak stage.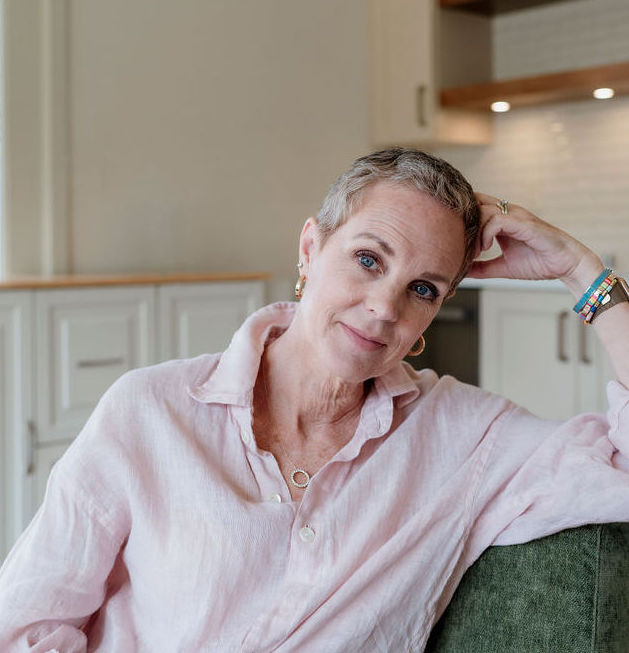 Marnie Clark, entrepreneur, wife, mother, and stage IV lung cancer survivor shared her story with me. Her challenges, joys, fears and triumphs to the Peak Stage will inspire you. Marnie's remarkable story of courage and strength is a reminder to us all that life is unpredictable, and how we call upon ourselves to move through those moments makes all the difference.
Marnie and her brother grew up in Lynnwood, Washington just north of Seattle, in what she considered a modest, conventional household. Her dad was a police officer, while her mom cleaned houses, making sure that she was home each afternoon when the kids got in from school.
Marnie remembers her childhood as happy and stable. One filled with, "opportunities for fun experiences and education. I have great memories of coming home each day after school, dishing up a bowl of ice cream, and watching General Hospital with my mom."
But Marnie was shy. She stayed away from sports and outside activities. Reading was her salvation, and in high school, alcohol became her crutch. During her high school years, Marnie also met the boy who would become her husband. Dating since they were fourteen, their marriage today is one of her greatest joys.
Shortly after graduating from high school the two started their company, developing land and building homes. Marnie worked fulltime while managing the accounting for their growing business.
With the births of their two girls, the family and business began to grow, as did her dependency on alcohol. Her twenties presented some of her biggest challenges, but also, her awakening.
"After a rough night at an elementary school auction (aka rock bottom) I made the decision to quit drinking – I was 34 years old. Thankfully I had a friend who had been attending AA meetings for years, she was kind enough to pay it forward and walk me through the doors of my very first AA meeting and I never looked back. They say you have to have the bad to be able to appreciate the good and I believe that is one of the things that kept me sober (now 20+ years) – the gratitude and love I felt for my husband and daughters was so deep and the fear of losing it all made the choice to quit drinking relatively easy. I say "relatively" because in our society, drinking is how we are shown we can live our best lives. From kids sporting events to dinners out to a day at the zoo – there are land mines everywhere so when I say "easy", I mean that I knew deep in my soul that I couldn't go back to that life but most certainly there were times when it was a battle to not have a drink."
The following four years continued to bring Marnie satisfaction and happiness, with the surprise pregnancy and birth of her son. She's deeply reflective and grateful while considering the impact of parenting, alcohol free.
Over the next three decades she has enjoyed multiples successes, including the creation of her blog. She established it to further inclusivity surrounding sobriety and developing delicious mocktail recipes and expand her early love of writing.
Then, as life does – things took an unexpected turn. Marnie's health presented a challenge that required her to step away from the blog and focus solely on her well-being. She spent the next two years learning to eat cleaner, and with the help of a personal trainer, get her body fit and strong.
She would lean into that gift from God for years to come. Just as she began to revel in the beauty of the life, she'd worked so hard to build, came the devastating news that she had Stage IV Lung Cancer. And yet, Marnie found the silver lining, embracing the road ahead and the life-changing perspective it brought.


"Facing your mortality forces you to confront the choices you're making in life, the biggest choice for me was how I was spending my time."


Through all the treatments, a subsequent brain tumor causing partial paralysis and nerve damage, Marnie never lost site of the gratitude she'd embraced so many years before. She retired, her husband changed his work load, and her recovery became job number one!
She believes that the physical, emotional and spiritual focus prior to her diagnosis have helped her each step of the way.
It's not quite the life she imagined back in her twenties as the journey was beginning, but she does not take it for granted. "My BC (before cancer) life was very full of all the good things – work, kids, friends, passion projects, exercise, etc. but once the diagnosis came all the small worries and challenges fell away. The things that fulfill me most now are spending time with my kids, being available to help my parents, getting non-work time with my husband (we've built our business side by side for 32 years), and exploring what makes me happy."
Marnie is not one to look back with regret, but rather forward with hope.
Weathering significant challenges, she knows that they have presented opportunities to live a happy, full life in ways she'd never imagined. "Not only has it allowed me to re-examine my priorities but it's given me the confidence to not care so much what other people think – that is a freedom I never expected, I feel myself speaking up more and apologizing less".
Wisely telling her younger self: "Don't compare yourself with others – you are exactly were you need to be and who you need to be at this moment."
And as for the future? Marnie has no plans to slow down. She remains focused on healthy living, her family and her personal growth., Marnie is writing again and may even try modeling, something she'd considered in her youth.
Staying true to her mantra, Faith over Fear, Marnie is ready to take on life ~ wherever in takes her.