Interviews with inspiring individuals who are making the most of their peak stage.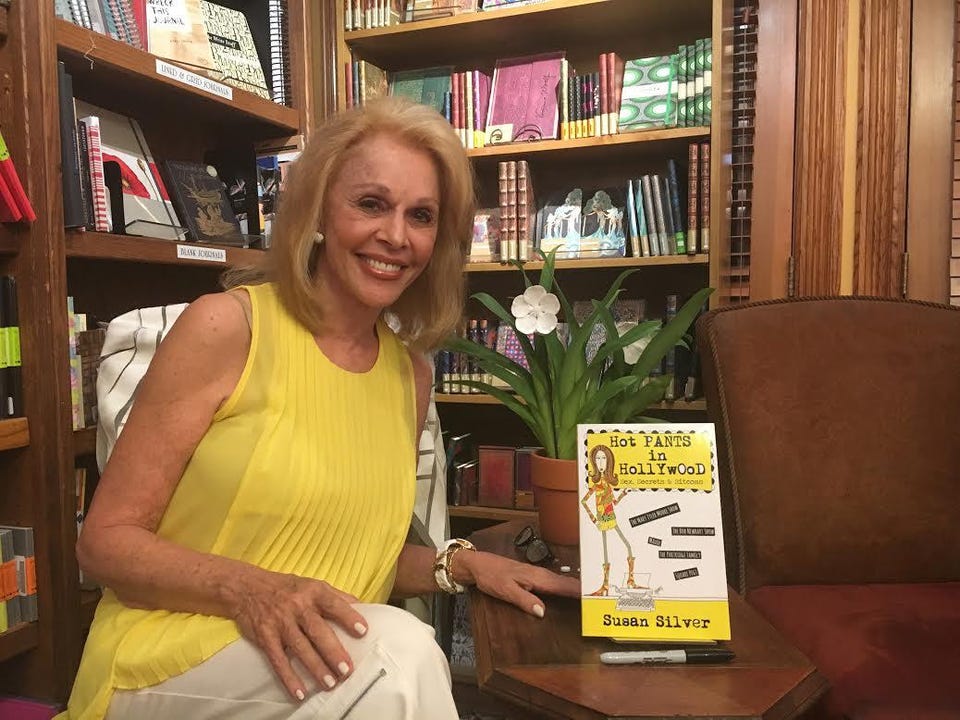 Meet Susan Silver. The trailblazing television writer and best-selling author, shattered glass ceilings in Hollywood, writing comedic genius viewed by millions to this day. Susan's quick wit and strong values set her apart then and carry her through life's challenges today.
While studying journalism at Northwestern, Susan quickly realized what she 'didn't want'..…limitations. So, she packed up and moved to Hollywood to attend UCLA and begin her journey into television writing. Susan climbed the ladders, surpassed the challenges of the times and flourished. Secretly writing while working as a casting director on Rowan & Martin's Laugh-in.
It was her Milwaukee upbringing, and a meeting arranged by Garry Marshall that set her on her way. Pitching true-life stories from work in a small midwestern television station, Susan became one of the original writers of the Mary Tyler Moore Show. Susan went on to write for many other TV shows, including The Bob Newhart Show and The Partridge Family. 


My mother always said "this too shall pass" and I wish I had believed her earlier.


Susan started at the top and stayed there, moving through the next twenty years with ease: professionally, personally, and financially. But it was while writing her memoir: Hot Pants in Hollywood: Sex, Secrets & Sitcoms, that Susan realized what she'd really cultivated all those years was resilience. The themes of the book are Resilience, Re-invention, and Relationships.
Here are Susan's 3 R's


Resilience:

I got a divorce, moved to NY, and began a new career…..involved with Holocaust Organizations. I ran the Speaker's Bureau for the Anti-Defamation League and was the UN Observer for the Simon Wiesenthal Center. Now I have a radio commentary called "Susan Says" on NPR affiliate robinhoodradio.com and WHDD, in which I cover media, politics and things that piss me off…..properly called "Oh Come On." I'm pissed off a lot!

Reinvention:

I always had wanted to be a writer, I achieved that. My father was a brilliant writer in his elderly years and I have become him…..not brilliant but complaining to newspapers and my listeners about the inequalities of life. In my middle years, I wanted more purpose and the Holocaust/Israel related work gave me that.
The last two years have been very difficult. I always thought I'd be a "great old lady" but I'm not! Being an only child and writer who loves being alone and lives in my head seemed like I would do well during the Pandemic, but I did not.
The isolation became way too much, and I literally went out about 20 times in the two years. (I have a garden to sit in, so I did do that… but not much more and I live across from Central Park!)

Relationships:

My relationships suffered, I allowed my circle to shrink, and this was very unhealthy. I'm just now starting to travel, reconnect and am doing a lot of thinking about the next ten years which will be the final ones.
When I say I'm between 50 and death, some people think that's ageist… no! Feminism is about choices and having broken some glass ceilings for women I choose to say no, like it or not! What I find most fulfilling now is my relationships with three Israeli soldiers that I sent to college through a charity I'm very involved with, Friends of the Israel Defense Force. They are now all married, with kids and are my family, as I did not have kids.


---
An overprotected only child from Milwaukee, Wisconsin, Susan was raised with all the Midwest values but fearful about of just about everything. From not being allowed to cross the main street till the age of 12, Susan rose to the top of her industry, during a time when women were not even considered for writing positions. She's travelled the world – unafraid – and met most of the Baby Boomer Generation icons, Presidents, world leaders and entertainers. And she currently teaches comedy writing at the Television Academy and the New School, in New York City.
Reflecting on what she might tell her younger self, Susan shared this:

Don't sweat the small stuff and most of it is small stuff, tell people you love that you love them.
Have a sense of humor about EVERYTHING, it got me through. And if you don't have one, find someone who does.
Save your money so you can eventually live the plush life you deserve! I'm big on budgets and it paid off.
I have had two life threatening illnesses and handled them much better than I thought the scared little girl I was would have. I've nursed my parents through the end of their lives and realized how lucky I was to have those years, as difficult as they were.


It's been a hell of a life! And it ain't over yet. We live longer now, and we must reinvent ourselves every 20 years and find a new passion to stay VITAL.