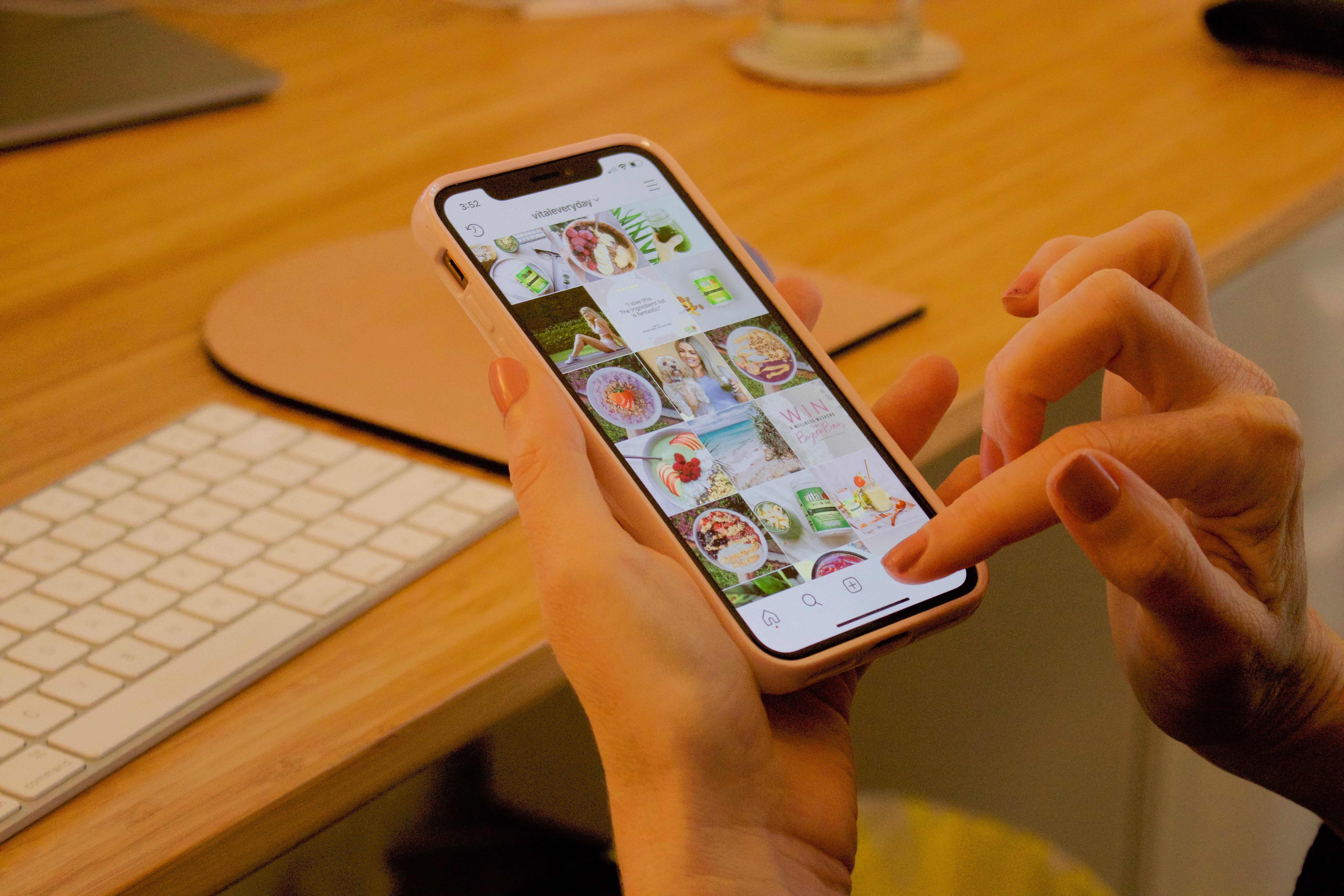 Getting Set up on Instagram
Now that you've decided Instagram (IG) is right for you and you're ready to sign up, here's how to tackle setting up your user profile, creating your first post, and finding friends, family and other influencers you'd like to follow!


Creating Your Account


Signing up for Instagram is simple and worth the connection it provides users, not only to friends and family, but favorite celebrities, brands, hobbies, and more.
To begin, go to the App Store (Apple iOS) or Google Play store (Android) on your smartphone and download the Instagram app. Once installed, you'll see three ways to sign up: by logging in through Facebook, or using your email or phone number. Make your choice, then click "Create a new account."
Follow the steps to fill out your profile with a username and 150-character bio about yourself (or your brand, if you're creating an IG business account). Other IG users may search for your real name or username to find you, so decide what you would like them to see.
Add your profile photo or business logo. This image must be uploaded from a mobile device, taken as a new photo, or imported from your Facebook account. Choose which notification settings you prefer to pop up on your device when you are not using the app.
You may select notifications only from those you follow, notifications from all users, or none at all.
Decide whether you want your account to be public—visible to everyone on Instagram — or private. On private accounts, people cannot follow you, see your material, or message you without your permission. This privacy feature is one way Instagram helps users feel secure and comfortable sharing content with the IG followers of their choice.


Crafting Your First Post


To create a new post, click on your profile image at the lower right corner of the main screen and when your user page opens, click the "+" button in the top right corner. From the pop-up menu, select which option you want to share:

A single photo

A collection of 1-10 photos

An image or short video posted to your daily "story," and visible for only 24 hours in a special section of the newsfeed

Story highlight

IGTV, short for "Instagram TV." These are vertical video recordings of 1 to 10 minutes, created with a smartphone. Longer recordings of up to one hour may be featured by businesses or "verified" users (often a popular influencer with a mass following) and will still appear in a vertical format

Reel, or short video clip of 15 seconds or less that you can enhance with music, filters, text, stickers and more. This feature is similar to the short-length videos popularized on the Tik-Tok platform

A guide, meaning recommendations offered to others
After choosing your preferred content type, click "post" and either capture a new photo or video or select an existing one from your device. You'll then click "Next" through separate screens where you can edit the image(s), add photo filters, stickers, text, or hand-drawn effects.
Want to look like you just came back from a beach vacation? Try the Valencia filter! Prefer vintage black-and-white? Try Inkwell.
After the image or video is ready to present just the way you want, click Next, write your caption, add a location if desired, and toggle the Facebook button if you want to publish your post there as well. Then, click "Share" and you are off and running!


Finding Accounts to Follow


To follow others or to gain followers of your own:
Select the magnifying glass to open the search bar where you can look up IG users by name, or search hashtags such as #ProAge or #StrengthInMotion_PT to find unique content or accounts by keywords.
Click the "follow" button and if the profile is private, wait for the account owner to accept your follow request. Often, an account owner will follow you in return.
When you find posts of those you follow in your newsfeed, you can begin communicating with a "love" or comment. Your followers can do the same for you!
Instagram also offers a direct messaging feature, via the "message" button found on each user profile. If your account is private, someone who doesn't follow you can't send you a message unless you approve it first.
Tapping the paper airplane icon at the top corner of your profile screen will take you to your private messaging window where you can view any incoming messages.
So there's a snapshot of a few of Instagram's main features, ready for you to enjoy! As you begin exploring IG for yourself and getting comfortable using the app, come back here to Vitalcy for future articles that will dive deeper into sharing video content or using Instagram to grow your business or personal brand.