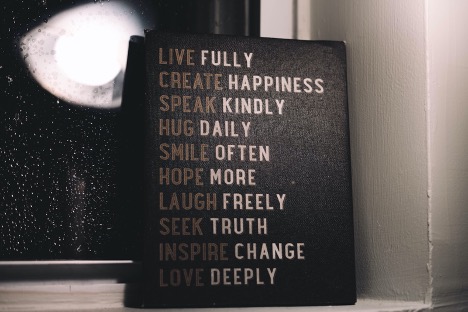 What It Means To Seek Pleasure
What happens when we make a conscious effort to incorporate pleasure into our everyday life?
I'm doing a deep exploration of pleasure and asking myself that question.
Some of us, predominantly women, connect the idea of pleasure with "guilty pleasures", as if we aren't allowed to openly seek pleasure. As the caregivers and the nurturers, women often equate seeking pleasure with being selfish.
We have too many people depending on us to take time off just for ourselves. (You can just hear that faint, "How dare she?")
I asked people on Facebook what gave them pleasure and found that most people responded passively—they listed things they could see or experience, as opposed to sharing actions they took.
Loving sunsets is awesome and is on my favorite things list, but to get the most enjoyment out of a sunset I have to be intentional about how that happens. I have to prioritize creating pleasure, instead of hoping it will just show up.
What actions could you take to bring pleasure into your life?
Do you know what would feel pleasurable for you? You can actively add pleasure and you can work to remove things that don't bring you pleasure: obligations, unwanted tasks, or the people who bring you down?
Part of pursuing a pleasure-filled life involves creating the right circumstances and learning to use your voice in a self-affirming way. We can still make our to-do list and get to meetings on time AND create moments of sheer delightful pleasure.
It's part permission, part boundary setting, part active loving (of self) and creating the life we yearn for. Even a 20 minute break to take a quick stroll can create a needed boost. Start small and build up as you discover how fulfilling it can be to ask yourself, what do I desire? And then take the necessary steps to do whatever shows up.
If you can't do the little things that give us pleasure then the big stuff will only feel harder. The goal is to create an affirming practice centered on you. Like the old L'Oreal tagline, Because I'm worth it.
We need an active plan to bring pleasure into our lives more than ever as we age. We need a counterpoint to the idea that growing old is steeped in regret and dread, a slightly depressing cataloguing of our losses.
Older women are overwhelmed with fear-based marketing, designed to cultivate dissatisfaction with who we are right this moment.
The call is to turn back the clock, look and act younger, as if that will magically make us happier. Finding pleasure in the small things and in our current selves is much more satisfying—and far less expensive.
We can choose the more positive path. Otherwise we become mired in self-doubt and shoulds and oughts. And it's very difficult to experience pleasure and dissatisfaction at the same time.
Imagine letting go of the anxieties about aging and making friends with the face in the mirror. Imagine a daily focus on the things that give you pleasure. A sense of satisfaction, whether it's having a tasty breakfast, opening windows to let in a cool breeze, or picking up a good book. Adding a dash of color to your life, taking a small risk, letting go.
What gives you pleasure? Those are the things you need more of.
Firstly, we are making a conscious choice to pause and appreciate something—whether it's an action, or a sensory experience. The choice to create a satisfying moment can be 30 seconds, or two hours.
We seek pleasure—because we can. Because it energizes us and allows us to sink deeper into our lives. We seek pleasure because the world is tough and we are allowed to create the day, or hour, or life that suits us. Not dictated by others. Not buffeted by public opinion, or the latest article on why we're wearing our hair all wrong. But, just simply because it would make us feel good.
In choosing pleasure you are making a decision based on self-love.
PS: Start right now. Make a list of what you'd like to do but just haven't felt you could, or should do. Pick one and do it today.