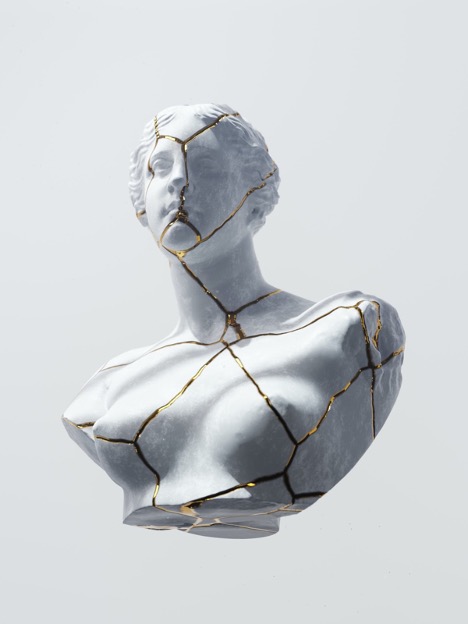 Spinning Wisdom Into Gold
Which is more beautiful? The unblemished, untested, shiny new product or the slightly 'broken', delicately marred vessel we become with age? Which offers us greater richness and value?
The Japanese mend cracked statues and ceramics with gold, they call it Kintsugi.
I love the metaphor of gold, the most precious of metals, delicately filling our cracks–solidifying our parts together with strength and lustrous beauty.
And yet we live in a culture that worships youth and creates a false image of the "sexy woman". Just think about all the young stars in the news talking about or acting out their sexuality.
This proliferation of 'sexy' in the media has shaped our impression of what sexy should look like and that impacts our sense of how we view our own sexuality.
If you spend much time in front of a television, movie, magazine or billboard you've seen overly sexualized, photoshopped images. And, you've probably had a moment or two of envy–quickly followed by shame, sorrow or frustration that your own body doesn't look that way. Followed by concerns that your partner will judge you in comparison.
I've been there. I've seen men notice young women. And, then I think about my own aging body and soft curves. I used to judge my body by theirs. Now, I know where my strength lies and it's not necessarily in how my body looks. It's about how I inhabit my body and my knowledge of my sexual self.
Beauty always promises, but never gives anything. – Simone Weil
You and I are over 50, I'm approaching 68. We are aging. We are no longer young in years. Our bodies are no longer taut and glistening. Yet our beauty is like that of burnished gold—possessing a beautiful shine and patina. Polished and gently marked by time in a way that increases our worth. We feel good to the touch and our time on the planet has given us a depth of knowledge not seen by the naked eye.
An 82-year-old man paid me a huge compliment on Facebook the other day, "btw…looking thru your page, I do so love the gray hair and soft cleavage, this picture is so much more sexy, a pure sex, than pinups with their phony bodies…I do love the soft body of an older woman."
This is the kind of appreciation we older women want more of. And three cheers to this man, now 85, who continues to adore me from a distance. He recently invited me to come across country so I could be a nude model for his drawing class.
Let's make a pact. We will not be defined by age or the shape of our bodies.
We are unique sexual individuals. We look inward for validation of our worth as sexual beings, not outward. And, we are rewarded when we tap into our own wisdom. Those who seek us out are rewarded with a richness that goes far beyond the superficial.
Even if we are melded together with the finest of gold.